Living on the Edge
A guide to Tide Pool Animals, Seaweeds, and Seaside Plants

by Ruth Gortner Grierson and Thomas F. Vining


---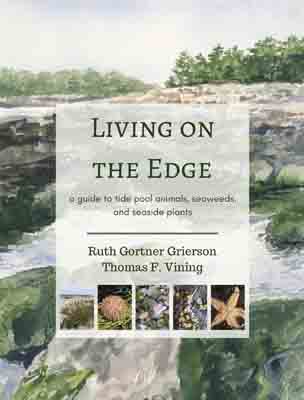 81/2" x 11" — 150 pages — descriptions and color photographs of 70+ organisms and habitats




About the authors:
Ruth Gortner Grierson is the weekly nature columnist for the Mount Desert Islander, a weekly newspaper, as well as a freelance nature writer for more than 50 years. She has authored five natural history books including Wildlife Watching on Mount Desert Island, the home of Acadia National Park. She is a violin/fiddle performer and active participant in musical activities on Mount Desert Island, Maine.
Thomas F. Vining has enjoyed a lifelong love of natural history. He is a former seasonal interpretive ranger at Acadia National Park and has earned a botany degree at the University of Maine in Orono.




You may order the book directly from the publisher
Each book is $26.00. Shipping (via U. S. Postal Service) within the U.S. is $5.00 for one book. Postage for each additional book sent at the same time to the same place is $1.00. Maine residents will be charged 5.5% sales tax.





Option 1: One copy - Maine resident:






Option 2: Two copies - Maine resident:






Option 3: One copy - U.S. resident outside Maine:






Option 4: Two copies - U.S. resident outside Maine:




Option 5: For orders of more than two books or for orders to be sent outside the U.S., please e-mail info@vfthomas.com or call 207-266-5748.




… or you may purchase the book at any of the following locations …


Bar Harbor:
George B. Dorr Museum of Natural History (College of the Atlantic)
105 Eden Street

Brunswick:
Gulf of Maine Books
134 Maine Street

Cranberry Isles:
Winters Work / Island Yarns
Islesford

Mount Desert:
McGrath's
Northeast Harbor

The Naturalist's Notebook
Seal Harbor

Southwest Harbor:
Southwest Harbor Public Library
338 Main Street

Southwest Harbor / Tremont Chamber of Commerce
329 Main Street (Harbor House)

Tremont:
Bass Harbor Memorial Library
West Tremont (temporary location)



Thank you.